Love is more than turning a blind eye when an unexpected shipment of fabric arrives. Love is a gift. Valentine's Day is closely approaching and this year, share your love of quilting and crafts with someone special in your life. Gifts made from the heart are the best kind of present; nothing is more treasured than a handmade Valentine that shows the time and commitment of the crafting process.
If you're looking for inspiration for your Valentine this year, look no further! We've collected six of our favorite quick and easy Valentine's Day projects that you can make today. Whether you're creating a beautiful new quilt to snuggle under or a scrap busting token of affection, remember to add each stitch with love!
What's the perfect complement to a Valentine's Day homemade candle lit dinner? An adorable table setting! The Zigzag Place Mats and Napkins project is a quick and easy addition to your Valentine's Day celebration that creates a beautiful atmosphere to get lost in your sweethearts company in. By using your favorite 5″ squares of precut quilting fabric, you can add a truly individualized touch to this fantastic table setting.
If you're looking for inspiration or just wanting to go all out (it's cute when it's over the top isn't it?), consider picking up a heart themed charm pack to really tie your place mats together. Heart to Heart Batiks Stamps by Kathy Engle for Island Batik are a sweet chic collection of groovy hearts, check, dots, and much more in a red, black, and white color scheme. These classic colors and symbols of love are perfect when illuminated by candle light!
February can be a cold month, especially here in Hamilton, Missouri. Although the days are short and the nights are frigid, we can always count on our quilts to keep us warm. Keep it simple this Valentine's Day and create a new quilt to cuddle under with your loved one! The Inside Out Heart quilt is a stunning geometric design that will not only be perfect for a Valentine's Day at home, but also for a spring picnic when the weather is warm.
Jenny suggests using a colorful solid layer cake for this pattern as to not draw attention to the fabric and away from the design. The pastel spectrum will be your friend for this pattern, creating a muted and soft design that you just can't help but smile at. Confetti Cottons Pastel 10″ Stackers for Riley Blake are perfect for this project; they are exactly the vibrancy you'll be looking for and offer a wide variety of color choices! Don't forget to expedite your quilt making with a Clearly Perfect Slotted Trimmer A to get this 36″ x 36″ lap quilt done in time to celebrate.
Watch the Free Quilting Tutorial >
Loads of Love Tea Towel
Valentine's Day is supposed to be fun, it doesn't have to be all candlelit dinners and roses! Spruce up your home this season with a Loads of Love Tea Towel featuring an oh-so-cute applique truck that is loaded with love! This project can be completed in a day and the applique pattern is completely free and ready to print!
You'll need a tea towel for this project, but don't be afraid to just use one that's been in your kitchen for years. With just a little scrap fabric and some Heat N Bond, you can upcycle it into a treasured seasonal decoration that you'll use for years to come!
Love is in the Air Wall Hanging
If you're looking for more traditional décor, a Love is in the Air Wall Hanging is the way to go! This project is simple to create, like the Loads of Love Tea Towel, because it comes together quickly by using applique. Classic Valentine's Day elements such as hearts and sprawling vines come together to create this piece of art that will be the perfect addition to your home or sewing room.
You'll need a Layer Cake for this project, but you can certainly have some fun with the fabric! From the Heart 10″ Stackers from Sandy Gervais for Riley Blake feature red and cream 10″ squares of flowers, hearts, stripes, and other Valentine's Day prints that are perfect for the mood of this project. These fun designs will better complement this project as they mirror the design!
Watch the Free Quilting Tutorial >
When in doubt, the Mug Rug is a great go-to project for any level of quilter! There's almost nothing better than a hot cup of coffee, tea, or cocoa and now you can make each cup extra special by serving it on a custom made Mug Rug that's stitched with love. Not only will this quick and easy project protect your table from the heat and condensation of your cup, it makes waking up each morning extra special!
Bust out your Wacky Web template and a love-inspired Charm Pack and you'll be halfway done with this fast moving project! If you're gifting this project to your Valentine (we won't judge if you want to make one for yourself) then Sending Love 5″ Stackers by My Mind's Eye for Riley Blake will help bolster the emotional appeal of the season. As this can easily be an everyday use item however, you can always get a little creative and use a favorite color palette or design!
Watch the Free Mug Rug Tutorial >
Artsi2 Valentine's Quilt Board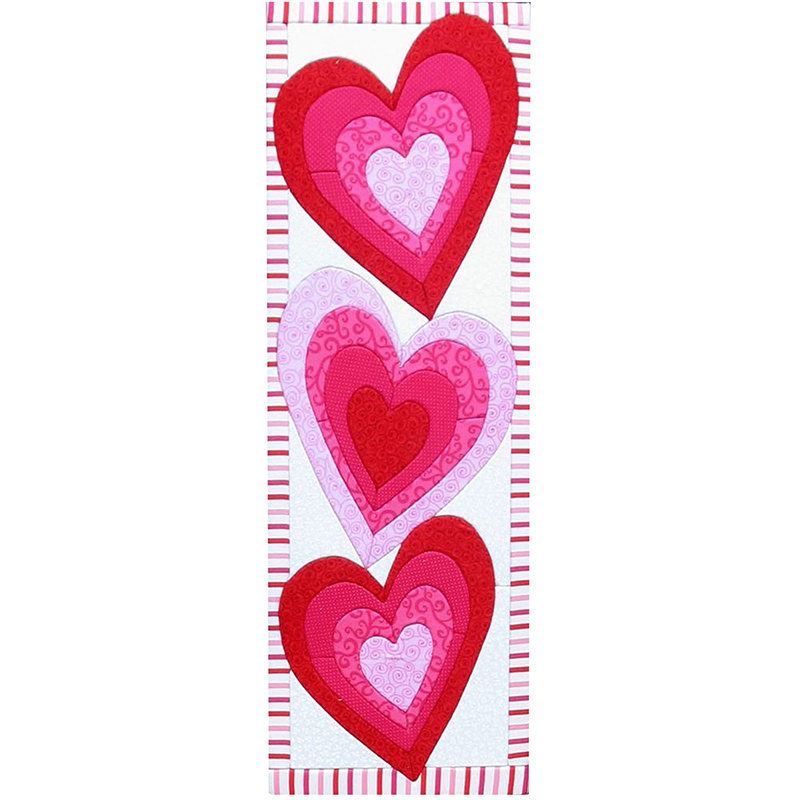 Turn your fabric stash into art with an Artsi2 Valentine's Quilt Board! These no-fuss boards require no sewing at all and can be ready in a flash to help decorate your home for the holiday. Using the back of a small seam ripper, just tuck your pieces of fabric into the precut grooves of the adhesive backed quilt board and there you have it; a unique decorative piece of art with little effort!
Quilt boards are great for inspiring others to start crafting, so instead of making this one for your secret admirer (or not so secret!), make it a date where you both can share the fun of creating something together.