Checking your list and realizing you forgot a few people? No worries! It happens to the best of us and guess what?! No one has to know! With these quick projects, your friends and family will be wondering when you had the time to whip up something so wonderful!

Gather up your scraps and start making!
---
Make some Mug Rugs to give away at the next Christmas Party.
These would make great stocking stuffers!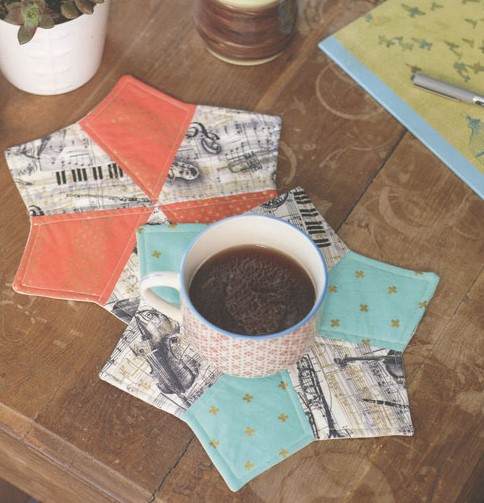 You'll need:
6 – 5″ squares
1 fat quarter OR 12″ square for backing
12″ square of fusible fleece
---
Put together a personalized Pillow Case for someone you love.
Elegant, whimsical, simple, argyle? What fits your loved one's style? Make it theirs.
You'll need:
3/4 yd fabric for body
1/4 yd fabric for cuff
---
Whip up a Scrap Buster Table Runner for a friend to display in their dining room.
Have an over-abundance of scraps? Make this runner reversible so your friend can use this gift no matter the occasion!
You'll need:
8.5″ solid square
Several 2.5″ strips
Several 2.5″ squares
---
Create a fun Zipper Pouch for a child to store supplies and treasures.
Make the project twice as fun by re-using one of their empty candy bags!
You'll need:
5.5″ X 20″ rectangle
2.5″ X 20 strips
9″ X 20″ rectangle of lining (twice the size of your pouch)
Nylon zipper (a teeny bit longer than your pouch)
---
Keep your loved ones warm with a Cuddle Scarf.
Keep it solid or use fun prints to make your gift more special.
---
Of course, if you're real behind, a Missouri Star e-gift card never fails! Happy Holidays!
---
Have you ever given or received a hand-sewn gift? Show us in the comments!