Writing to you from the comfort of home is a privilege in this fast-paced world. I often find myself between places, driving long distances or flying to far-off locations to visit quilters around the world. It can be hard to feel comfortable in such circumstances, but I've found out something incredible about the quilting world. No matter where I go, as long as I can find a quilt shop, I feel right at home. After all, home is where the quilts are!
Home is such a lovely place to be. I recently dug into my sewing studio for some spring cleaning and unearthed some truly vintage finds! It's been a pleasure to sort through my treasured fabric stash and remember what I really love about quilting…
…the feel of the fabric, the joy of selecting a stack of prints and sewing them together without a pattern. Cutting, stitching, pressing, and repeating the process over and over. There's something very comforting about it and I look forward to spending time with these simple creative pursuits whenever I get a spare moment.
This spring, let's dig into quilting with renewed vitality! Do what is necessary to start fresh, whether it's a bit of light cleaning and dusting or a major fabric stash overhaul, and you'll be amazed to find yourself itching to get back behind a sewing machine again. Celebrate the art of quilting by treating your machine, your fabrics, and your space with gratitude and you'll be rewarded every time.
Love,
Jenny
---
"Home is such a lovely place to be!" This message from Jenny is truly comforting as many of us prepare to stay indoors. As we watch the bustling world around us wind down, we notice the incredible way people have worked together to keep one another safe, educated, and inspired during these trying times.
Here at Missouri Star, community is something very close to our hearts and BLOCK Magazine is a big part of that. This "idea book" is a way for us to share with you how quilting has impacted our little part of the world. When you open an issue of BLOCK, you become apart of our community as we connect with you through authentic stories and photos and the sharing of ideas.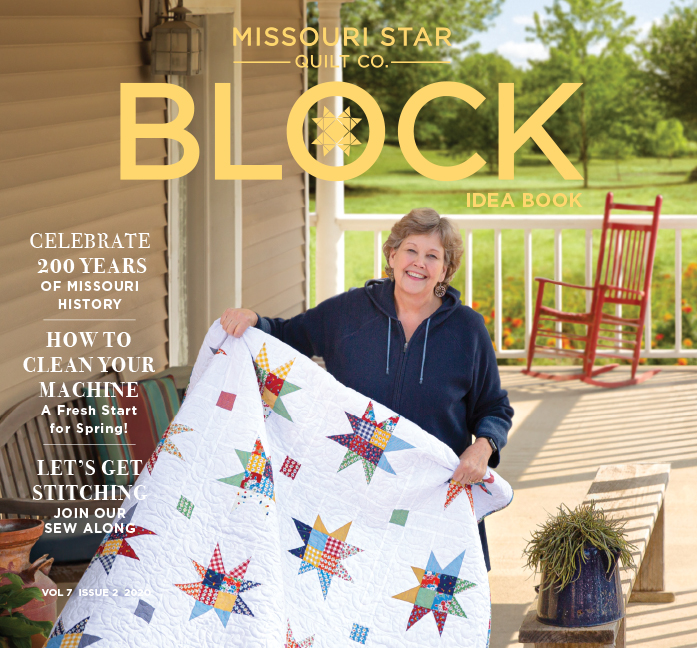 We recently redesigned BLOCK Magazine into something we feel is a better visual representation of who we are and what we value: YOU and our ability to educate and inspire you to create. We still have all the same content you love, but we've added more for you to truly experience and feel the joy that creativity brings to us all!
Things like…
The Ruby Sensation Sew-Along which comes in FIVE parts! A new sew-along block will be featured in each issue that comes out this year. (If you're not subscribed, you'll want to do so now so you won't miss a step!)
A mix and match of patterns and prints (Unique, modern patterns meet traditional prints, and vice versa)
Educational articles with helpful tips and tricks and even, fun articles like celebrating local history!
10 step by step quilt patterns, bonus mini projects, and gift ideas!
Jenny's Journal (See what Jenny's working on. You may see something you'd like to try!)
And as always, there are NO ads and your subscription ships free!
Take a look behind the scenes and get a sneak peek of
what's inside our upcoming issue:
In the next issue, you'll discover how to turn your adventures into a quilt filled with your favorite appliquéd states with the Road Trip pattern. Choose your own or embellish them for a customized quilt (or pillow!)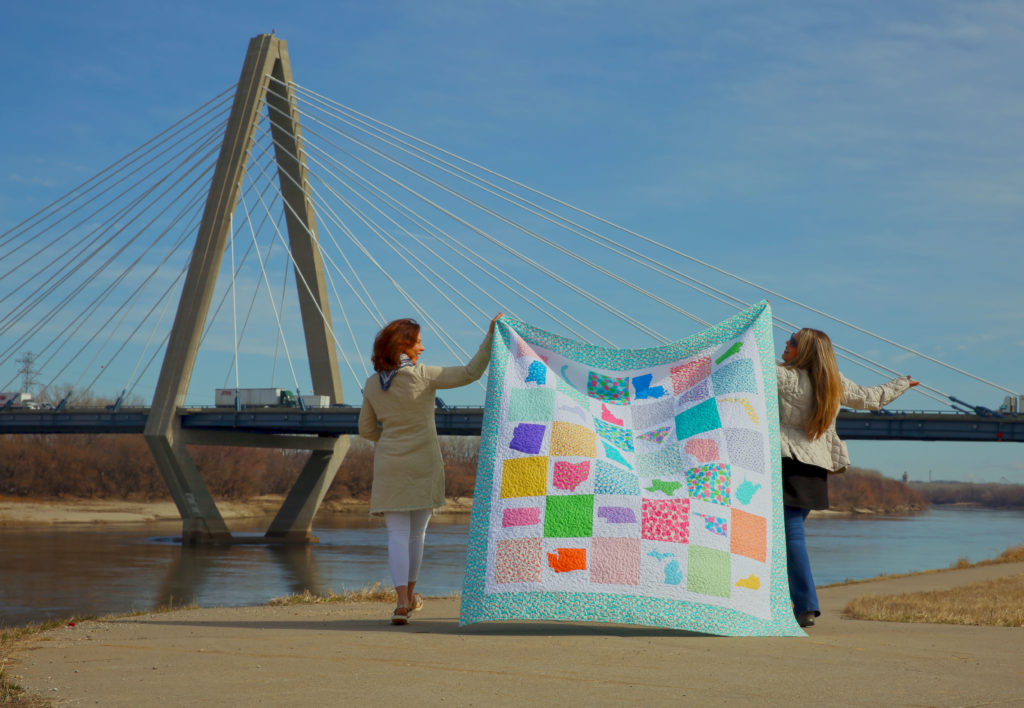 BLOCK'S photo-stylist, Jennifer Dowling, and sister, Maggie proudly display their favorite appliquéd states next to the Christopher S. Bond Bridge in Kansas City, MO.
BLOCK Magazine's creative director, Christine Ricks, stands atop the National WWI Museum and Memorial displaying patriotic colors in the Luminary quilt. This is a great spot to take a good look at Kansas City's gorgeous architecture and Union Station!
Alongside the Kauffman Center for the Performing Arts, Christine cozies up with the Wonder quilt, a design by Katie Larson.

This center, located in Kansas City, MO, only 60 miles from Missouri Star, is a place where people from all over come to discover culture and community through theater, art, music, and history.
Over $50 worth of information is packed into each bi-monthly issue of BLOCK Magazine for just $7.99! ($9.99 bi-monthly for Canadian subscriptions.) 
SUBSCRIBE TO BLOCK MAGAZINE TODAY
What inspires you to create? Let us know in the comments!