With May right around the corner, there's no better time to create a beautiful Mother's Day quilt than the present! Many of us learned to sew from our mothers and grandmothers, but even if you didn't, take some time this spring to celebrate those who helped raise us. Mothers and quilters are an incredible and caring people. Wrap mom in love this season with one of our five favorite Mother's Day quilts!
The month of May starts off strong with the celebration of May Day! Traditionally, May Day baskets are full of freshly bloomed spring flowers to acknowledge the changing of the seasons and the rebirth of the outdoor world! The May Day Baskets quilt takes the concept of these baskets and stitches them into a quilt, so not only can you keep warm on those chilly May mornings, but you can celebrate spring for years to come.
Flowers have been the traditional gift of Mother's Day. As this is a floral quilt, a floral fabric should be considered! We love the look of Jenny's design as the fabric had a matching color palette, so when selecting a pack of 2.5″ strips of precut fabric, keep color in mind! Chelsea Strips for Northcott are a fantastic choice as they combine floral fabrics with a purple color scheme with just a hint of green for an added leafy effect!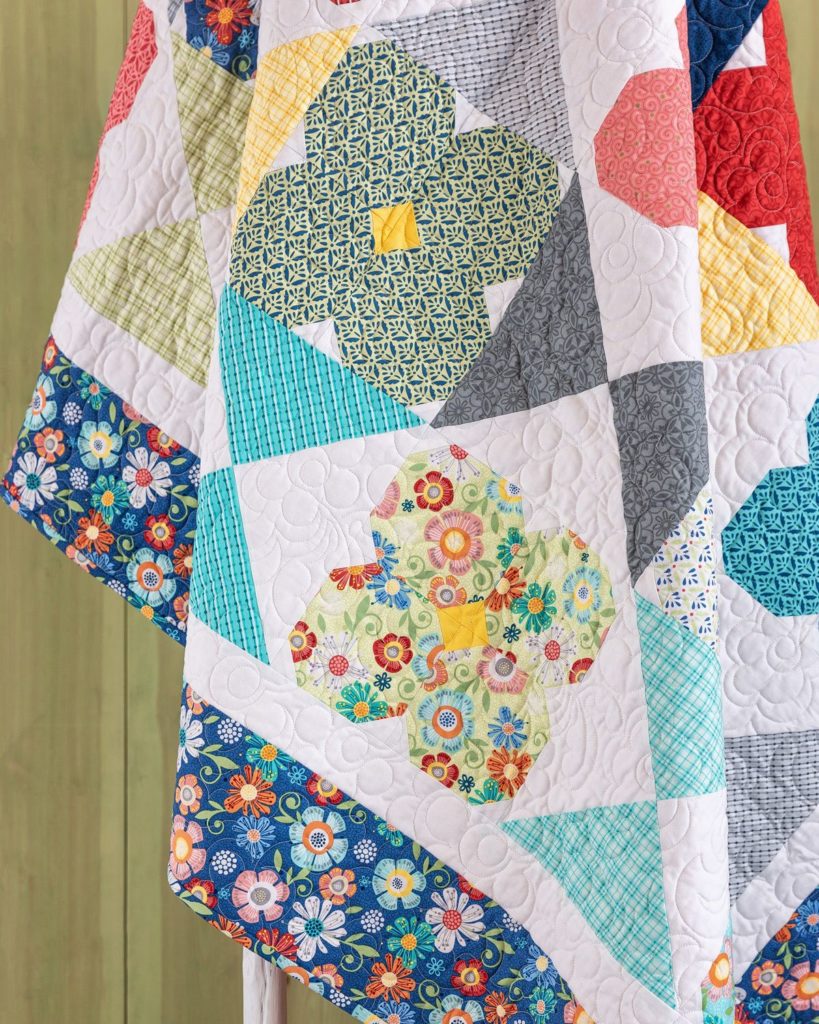 Flowers are a perfect Mother's Day gift; they represent the change of the new season with a delicate nobility and grace that is inherent of mothers. Instead of a vase full of flowers, mix things up this year with the Flower Glass quilt. This easy to follow pattern uses 10″ squares of precut fabric and just a bit of extra yardage. The effect, however, is readily apparently as the hourglass and flower blocks combine to create a beautiful bouquet of warmth!
Floral arrangements come in many shapes and colors and so should your fabric choice for this project! Make a statement and go bold with a vibrant print such as Watercolor Wishes Metallic 10″ Squares by Kanvas Studio! This intense fabric features incredible watercolors with prominent butterflies and flowers, perfect for a unique and heartfelt gift for mom!
While carnations are the most gifted flower for Mother's Day, we'd argue a full rose garden could be more popular! The Rose Garden quilt is a gorgeous quilt that, thanks to Jenny's quick and easy quilt tutorial, is incredibly simple to create! Start with 5″ squares of precut fabric and learn how to make half square triangles and wonky leg blocks in the quilt tutorial to piece together this gorgeous quilt that will be the highlight of your mother's special day!
Elegance is the key to this project; select a fabric that is both refined and traditional to create the desired effect. Bring forward the floral feel with a Le Beau Papillon Charm Pack for Moda Fabrics. These 5″ squares feature graceful vintage florals, butterflies and traditional patterns in light, airy colors! This quilt could truly be a one-of-a-kind, heirloom gift!
Did you ever make a daisy chain for your mom? Those fragile strings of flowers meant more to her when you made them than you've probably ever realized. Return that innocent gift from the heart once more this year, with a Daisy Chain quilt. This adorable design can be easily made from 5″ squares and 2.5″ strips of precut fabric!
With plenty of white space in this project, bring attention to your strips with a fun and fabulous choice of fabric! Kaffe Florals Blues 2.5″ Strips for FreeSpirit Fabrics are the perfect addition to this project! This gorgeous, blue fabric from the famous Kaffe Fassett will create a vibrant highlight upon the soft white backgrounds of this quilt.
Let's not forget about those grandmothers as well! Many of us had the pleasure of learning from our grandmother as well, so why not thank her with a beautiful, vintage Grandmother's Fan quilt! With the Missouri Star Large Dresden Plate Template for 10″ Squares, this pattern has never been easier! Using the template and a combination of 5″ and 10″ squares of precut fabric, this gift will be ready to go just in time!
Traditional vintage fabrics will be your go-to choice on this project! Northport Prints Layer Cakes for Moda Fabrics are definitely the answer. This charming, yet simple fabric will transport you back to a bygone era and create a classic feel from this brilliant quilt!
Get the MSQC Large Dresden Plate Template >
Tell us, what's your favorite gift or activity for Mother's Day?