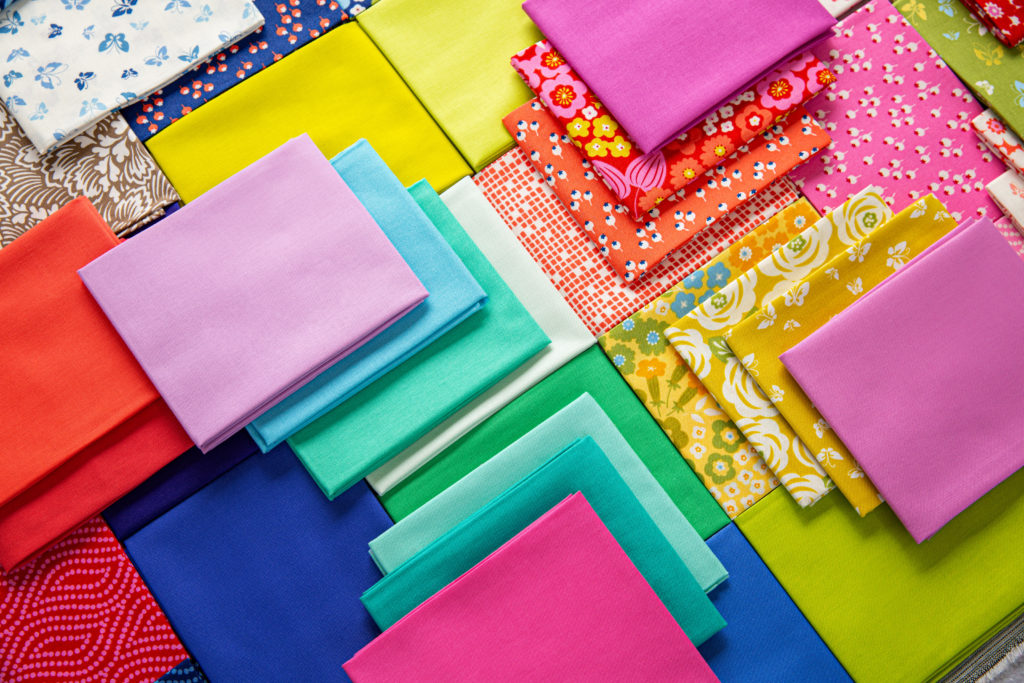 Precut fabric revolutionized the quilting world. The quilting skill was historically passed down through teaching – one would learn the intricate and mathematical approach of measuring and cutting fabric by hand from the generation that came before. Anyone who has pieced a quilt knows it's difficult work! Before you could even consider your project or layout, all the fabrics must be cut from bolts or repurposed from used materials. The margin for error was extraordinary, a single miscalculation could jeopardize an entire quilting project.
Quilting is now easier and more approachable thanks to precut fabrics. Precuts are perfect for beginners (that's why Jenny uses them to teach!). If you don't know what exactly a fat quarter is, or if you never heard of a honey bun, we hope this guide kicks off your quilting journey with confidence.
A Layer Cake is a curated bundle of 10″ squares of coordinating precut quilt fabric from a designer's collection. These versatile packs can be used for a number of projects. Their larger size allows them to be to cut into strips or smaller squares if needed! A typical layer cake contains 42 squares of precut 10″ fabric, enough for a small quilt top. Depending on the distributor, layer cakes are also called '10 stackers,' '10 squares,' 'tiles,' and '10 karat crystals.'
With such a big cut of fabric, layer cakes can dazzle because the printed design catches the eye first. If you want to showcase a gorgeous fabric, consider Jenny's spin on tradition and create the Irish Change quilt. The Layer Cakes in this project are left completely whole and highlighted with fabric strips to create a beautiful showcase of 10″ squares!
Learn More About The Irish Change Quilt >
Think of Charm Packs as Layer Cakes smaller sidekick! A Charm Pack is a bundle of 5″ squares of precut fabric. Charm packs are a fast, fun way to bring a quilt together like magic and, like Layer Cakes, Charm Packs are often sold in bundles of 42. These fabric bundles are also called '5″ stackers,' 'single scoops,' and 'stamps.'
For an easy introduction to the world of Charm Packs, use the pack as it is and create the Charm Quilt on Point! This simple creation turns the Charm Pack fabrics on point before sewing them together to create a beautiful layout with little effort! Select your favorite Charm Pack (much like in the Irish Change quilt, your Charm Pack fabric will be the focal point), add a border and a back – you just created the easiest quilt you ever made!
Learn More About The Charm Quilt on Point >
Mini Charm Pack (2.5″ Squares)
Have you heard the saying "there's always a bigger fish"? How about "there's always a smaller square"? As you probably guessed, a Mini Charm Pack is exactly that – a smaller version of a Charm Pack! These fabric bundles contain forty-two 2.5″ squares of precut fabric, half the size of their larger counterpart! With a name as specific as Mini Charm Pack, it's difficult find this precut under a different name (but let us know if you do!).
Think small when using this precut, it's better used as a compliment than a feature! Mini Charm Packs create intricate and impressive designs, even though it's really no different than sewing a larger square. The 2.5″ Mini Tumbler Quilt is a great option if you want to play with these mighty minis, but you can add creative flair to any quilt with a 2.5″ square as a cornerstone!
Browse Mini Charm Packs Here >
Learn More About The 2.5″ Mini Tumbler Quilt >
Let's get away from squares and focus on strips! A Jelly Roll is a bundle of 2.5″ strips of precut quilt fabric, featuring an array of coordinating fabric from a designer's collection. Jelly rolls make sewing up a cute strip quilt a snap. Not only are there countless patterns that use only a Jelly Roll, but you'll find these strips so handy you may use them with other precuts. A standard Jelly Roll contains forty 2.5″ x 44″ strips of fabric and is also called a 'rolie polie,' 'strip-pies,' 'roll ups' or even just '2.5″ strips.'
One of the easiest quilts for beginners is the standard Jelly Roll Race quilt! Piece your Jelly Roll strip by strip, and you can stitch up 1,600 inches of fabric in less than an hour! This pattern can be wildly colorful, with constantly changing colors and designs – so be bold with your Jelly Roll choice!
Learn More About The Jelly Roll Race Quilt >
The Honey Bun is the Jan to the Jelly Roll's Marcia. Have you ever heard of it? This slender roll is perfect for sashing and strip quilting. The Honey Bun is a bundle of forty 1.5″ strips of coordinated, precut fabric. When piecing a quilt top, it's more common to use a Jelly Roll, but don't count the Honey Bun out. Whether creating a small quilt top or an intricate design, the Honey Bun will serves up loads of versatility. If you can't find a Honey Bun, try looking for it's alter ego – Skinny Strips!
Jenny's very first quilt was a Log Cabin quilt, so they're near and dear to her heart. If you want to feature a Honey Bun in your next project (and not just for sashing), a simple log cabin block is the way to go. You can get 21 log cabin blocks from a single Honey Bun!
Learn More About The Log Cabin Block >
If you absolutely adore a line of fabric, the answer is the Fat Quarter! A fat quarter bundle is a stack of fat quarters (quarter yards of fabric, cut wide) of coordinating quilt fabric from a designer's collection, and of all the precuts, it gives you the most fabric! Fat quarters measure 18″ x 21″ and make it easy to build a quilt with your fabric lines. With just a little extra cutting, the possibilities are endless for this precut bundle. Fat Quarters are sold in bundles called Fat Quarter Bundles, but sometimes they are also advertised as "rolls."
Precuts are the perfect way to round out your stash, as you can grab one for all sorts of projects. Feeling inspired now? Try a fabric basket with Misty. She uses two fat quarters to create the A Tisket A Tasket… 2 Fat Quarter Basket from Me & My Sister Designs. Fat Quarters are an easy way to stock up on your favorite fabrics in bulk, but expect a little extra cutting or piecing in your Fat Quarter projects!
Browse Fat Quarter Bundles Here >
Learn More About The A Ticket A Tasket… 2 Fat Quarter Basket >