You've gathered your supplies, you've studied your basic skills, and you've even put together your first quilt block, but what comes next? Using templates and notions to create one-of-a-kind quilting designs is even more simple than you may have imagined. In fact, if you're using a ruler to line up your cuts, then you're already experience in the process! The Merriam-Webster dictionary defines a template as "something that establishes or serves as a pattern", so that handy ruler you've been using is the first step in mastering the template process!
The most familiar template for all of us is the trusty 5″ x 15″ ruler. This simple straight line device is used in quilting to cut an even and straight line, but they come in a variety of different sizes! If you're sewing a big project, consider using a bigger ruler. Many quilting rulers are designed exclusively to feature one inch blocks in a transparent plastic so you will always be certain that you're cutting and measuring precisely.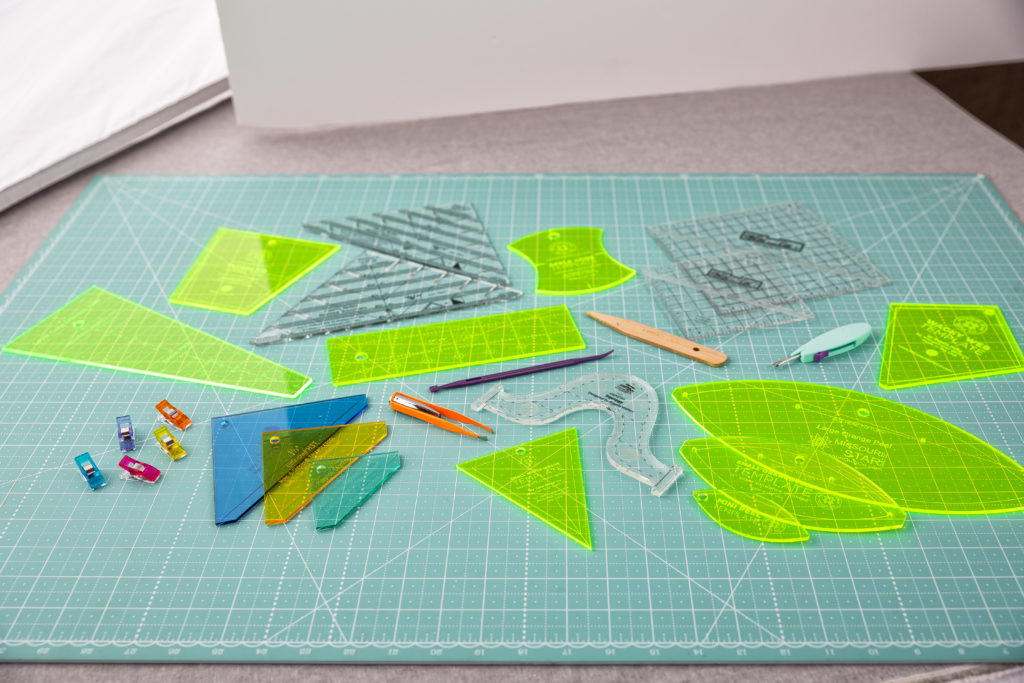 This is just the beginning of the world of templates and notions! Consider the Dresden Plate block for example, it's a time-honored traditional quilt block that demonstrates expertise in crafting and has long been a staple of the quilt world:
"The popular name for this quilt, Dresden Plate, reflects the romance of the Victorian Era with its love of elaborate decoration on household items and décor. Dresden, Germany was a center of 19th century romanticism movement in art, one that included the fine decoration of porcelain. The plates were embellished with elaborate design using flowers, fruits and foliage. The beautiful plates would surely have been admired by women of the early 20th century."

http://www.patternsfromhistory.com/colonial_revival/dresden-plate.htm
Thanks to new quilting innovations however, the Dresden Plate has never been easier to create with a template. Using the Missouri Star Large Dresden Plate Template for 10″ Squares, Jenny demonstrates how to create this gorgeous vintage block in her Dresden Blooms quilt tutorial.
The fun doesn't stop at just dresdens! Templates and notions are designed to make your quilting career easy and approachable. Whether you're quilting with curves or using a notion to push out the corners of your project, take some time to research the available options to streamline the process. There is no limit to the ingenuity being utilized within the crafting world, so the next time you're dreaming up some inspiration for your next project, consider challenging yourself to improve your skills by adding a new element to your quilting with a template.