As the year comes to a close, we are filled to the brim with joy here at Missouri Star. Truth be told, we hadn't done much reflecting on what this year truly meant for us until it was time to sit down and write our annual Year in Review. Once, we got started, it seemed the list of things we did this year would never end!
As we looked back over the past twelve months in amazement, we were so touched by the love from our followers, support of our customers, the selflessness within our quilting community, and the hardworking, kind hearts of each and every one of our team members.
Celebrate the end of 2019 with us as we share some of our favorite things:
---
A GRAND OPENING!
Back in June, We opened a new Education Center here in Hamilton where we hold classes for quilters of every level! Come to Missouri Star and enjoy a hands-on class with our quilting experts!
VIEW THE IN-TOWN CLASS SCHEDULE >
Can't make it to town? No worries! We also released several online classes this year!


BIRTHDAY BASH
This year we said a big ALOHA to our 11th year in business with a lovely luau-themed Birthday Bash. It was definitely a party to remember! Over 2,000 quilters came to Hamilton, and it was so much fun. That more than doubles our town's population! Wow!
For our birthday, we asked for the gift of helping others and you did not disappoint!
$2,167 was raised for Days for Girls hygiene kits which were put together during Birthday Bash. Together, our guests assembled 1,012 kits that have since been placed at a refugee camp!
We also raised $5,715 from our Celebrity Sew-off and Quilt Raffles that we gave to our local food pantry!
THANK YOU TO THOSE WHO CELEBRATED WITH US AND HELPED TO GIVE BACK!
---
MISSOURI STAR CARES
This year we launched a brand new charity organization called Missouri Star Cares. Quilters are some of the most caring, giving people we know. You've inspired us to give back to our hometown, our country, and our planet.
Our first Missouri Stars Cares was a fabric donation drive in which we vowed to donate 1 yard for every 25 yards purchased to Quilts of Valor & Project Linus. Our drive lasted a total of 13 days in November during which time we came close to our goal of 2,500 by reaching 2,149!
And we can't forget our $10,000 donation to the Breast Cancer Research Foundation wouldn't have been possible without your support! All through October, we fought breast cancer one stitch at a time by shopping pink!
THANK YOU TO THOSE WHO PARTICIPATED IN HELPING US TO GIVE BACK!
---
STRIPE TOLD OUR MISSOURI STAR STORY IN A BEAUTIFUL WAY
---
A CELEBRITY VISIT!
We had the honor of hosting Maureen McCormick, (AKA Marcia Brady)! We laughed, cried, and laughed some more! Let's just say we had a BUNCH of fun!
WATCH JENNY & MAUREEN TALK QUILTING >
---
THE APPRENTICESHIP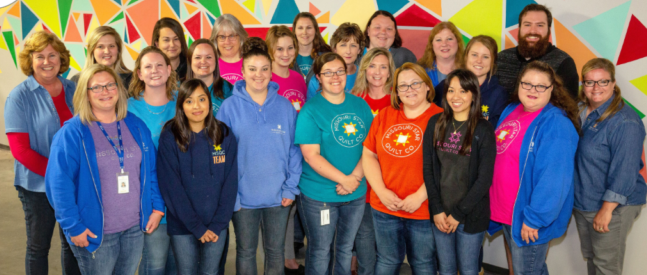 For the first time ever, a collaboration between Missouri Star Quilt Company and North Central Missouri College resulted in an apprenticeship program. Consisting of 21 of our team members, all completing the registered apprenticeship program through the US Department of Labor, earning certificates and college credit. Read more on the blog >
CONGRATS TO OUR GRADUATES!
---
CO-FOUNDER & CEO OF MISSOURI STAR WIN ENTREPRENEUR OF THE YEAR
WATCH ALAN DOAN & MIKE MIFSUD'S ACCEPTANCE SPEECH >
---
TOP THREE TUTORIALS OF 2019
TURNABOUT GRANNY SQUARES | ANTIQUE LACE | RICKRACK
---
What was your favorite Missouri Star Moment of 2019? Let us know in the comments!