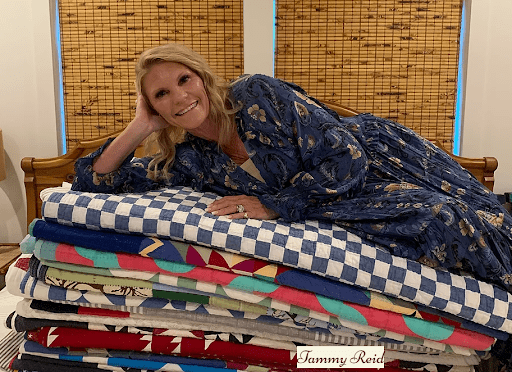 If you're interested in quilts and their history, you won't want to miss this event! Tammy Reid, Head Coach of the Head Coach of the Kansas City Chiefs, is a passionate quilt collector and in her talk "Every Quilt Has a Story", she is sharing stories of the quilts she has collected over the years. 
In this fun, interactive talk, the three panelists, Tammy Reid, Dakota Redford (the Director of the Missouri Quilt Museum, housed here in Hamilton), and Christine Pembrook (a quilt historian who has studied for 30 years on how to determine the age of quilts) come together to talk about symbolism in quilts, share history of Tammy's collection, and more! Refreshments will be served as well – it'll be a great time!
If you're local or planning a visit to see Tammy's quilts at the museum or see her talk, visit HERE for public and private tour schedules and ticket information.
Tammy's "Every Quilt has a Story" talk will take place on Wednesday, October 27th, at 12:30pm to 2:30pm at Kelly's Westport Inn in Kansas City, Missouri.
Tickets to this event are available now and will NOT be available at the door. Kelly's will be closed to the public during the event so be sure to purchase your tickets HERE today or before 5pm on Monday, October 25th.
Tammy is doing this event in partnership with the Westport Historical Society and the Harris-Kearney House to raise money for education to keep the history of Westport alive. Money for the house is raised through donations and tours. To learn more about the Westport Historical Society, visit and set up a tour, make a donation, or become a volunteer, click HERE.