As we look back over the past twelve months, we're simply amazed! We were touched by the love from our followers, the support of our customers, the kind hearts of each and every one of our hardworking team members, and the selflessness within the quilting community. Despite this challenging year, we've been able to accomplish so much together.
Thanks to you, Missouri Star is celebrating yet another great year of quilting! It's been filled with inspiring stories from quilters all around the world, brand new products created with you in mind, exciting tutorials that have inspired many, and some unforgettable, first-ever online events!
Let's celebrate the end of 2020 by looking back on some of the good things that happened this year:
FACE MASKS
Wow, quilters! Thanks to your passion for sewing and your big hearts, you were able to play an important part in the fight against a global pandemic. Since March 1st of 2020 – 56,973 of you have purchased fabric from Missouri Star specifically to create masks to help keep your communities safe! That is amazing – thank you!
In the comments below, tell us about all the ways you were able to help your community this year! Here's what we did for ours:
Close to 6,500 yards of fabric has been donated to area groups and non-profit organizations who are making masks for healthcare workers
We have donated 350 N95 masks to the local regional hospital and 2 local businesses who provide food delivery and cleaning services for our community
We provided tutorials for creating masks to keep you safe
---
TOP TUTORIALS
MORNING STAR
Jenny Doan demonstrates how to make a beautiful Morning Star quilt using 2.5″ strips of precut fabric (jelly rolls). This pretty star pattern was designed by Tara Faughnan for ModBLOCK. It's an easier version of the old block known as Morning Star, Lone Star, or Star of the East.
JENNY'S EASY CARPENTER STAR
Jenny teaches us how to make an easy version of the classic Carpenter Star using 10″ squares of precut fabric (layer cakes). This traditional quilt is often made with squares and diamonds, but Jenny uses half square triangles because they're so quick and easy and don't require y-seams!
Our First BLOCK Party
Together we celebrated BLOCK Magazine Vol. 7 Issue 4 with our very first BLOCK Party hosted by Jenny and Natalie!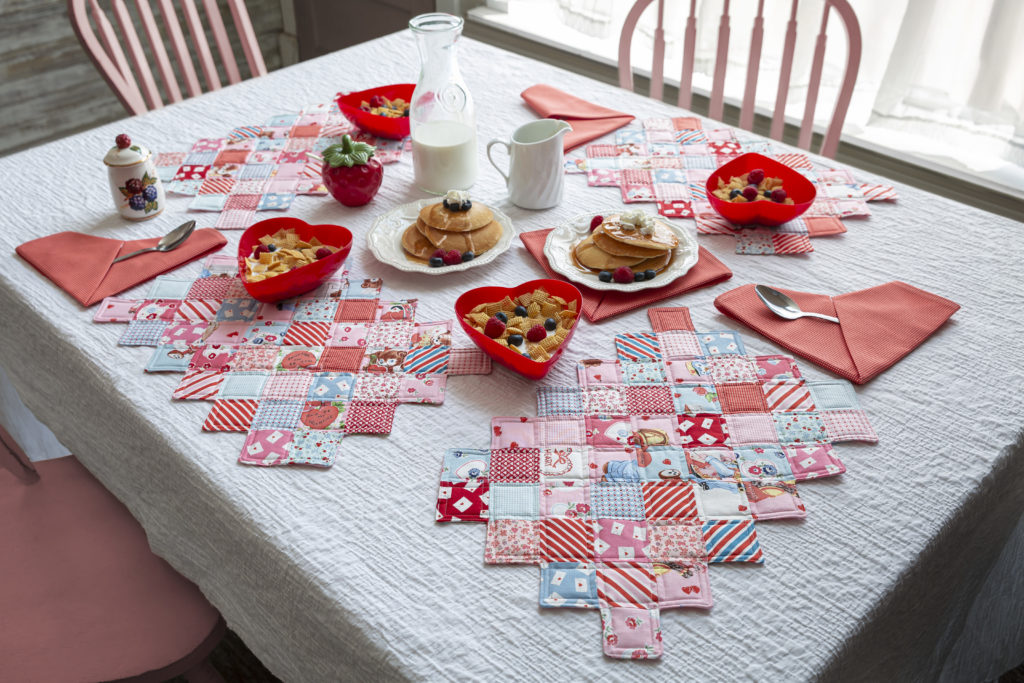 Placemat & Napkin Kit
Back in January, you let us know loud and clear that you loved this fun tutorial. These pretty placemats make a sweet addition to your table!
---
NEW SERIES! THE FINAL STITCH
We introduced a brand new tutorial series by Jenny's daughter, Natalie, that's a fresh take on finishing quilts. Follow along with her and get beautiful results every time!
---
THE NEW, IMPROVED BLOCK MAGAZINE!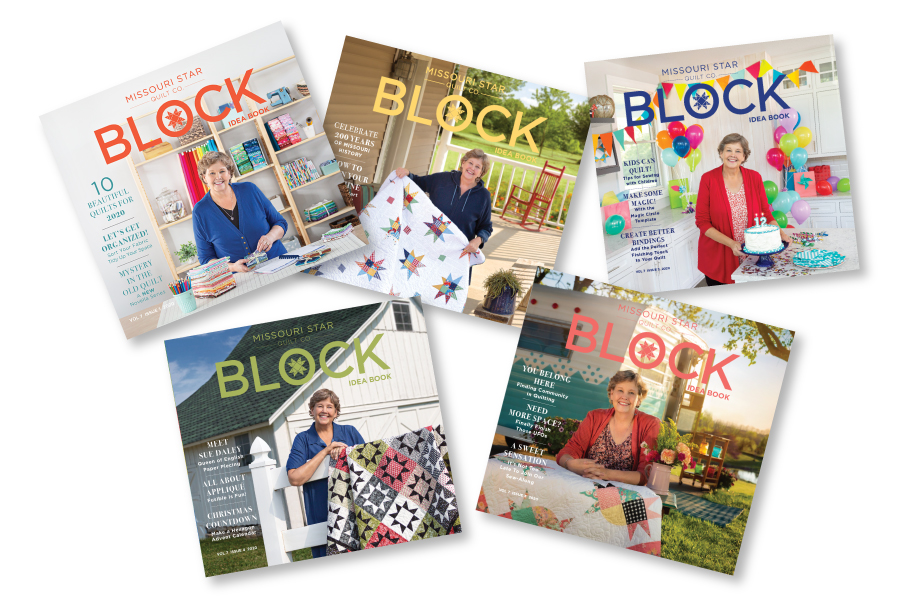 This year, the BLOCK team released a brand new design to BLOCK Magazine. New cover look, more educational content, more stories from our readers, and more!
DIGITAL BLOCK
Each issue of BLOCK comes with an interactive digital version! It's kind of hard to wait for each issue to arrive, so we wanted to give you an early treat.
Best of BLOCK
We recently released our first-ever special edition of BLOCK Magazine. It's a compilation of the last seven years with 25 of our favorite patterns and over 200 pages of quilt-y fun!
---
SEW-ALONGS
This year we introduced two new sew-alongs to make quilting easier than ever. As you follow along, month by month or piece by piece, your quilt will take shape! By the end, you'll have a lovely quilt that's handmade by you!
---
BIRTHDAY BASH – AT HOME
This year we celebrated Birthday Bash like never before! Thank you for stitching along with us for 12 wonderful years and joining the party from the comfort of home. It was an experience we'll never forget! Relive the Best Moments >
---
DONATIONS
Thanks to your support, we were able to donate $10,000 to the Breast Cancer Research Foundation! All through October, we fought breast cancer one stitch at a time by shopping pink! Learn more >
Project Linus is an organization that provides love, security, and comfort to children who are seriously ill, traumatized, or are just simply in need of a handmade blanket. As one of the many ways we're trying to spread kindness this year, we chose Project Linus to receive a $5,000 donation from us at Missouri Star. Learn more >
THANK YOU FOR YOUR SUPPORT TO MAKES THESE DONATIONS POSSIBLE!
---
GIVE LOVE
You are one of our biggest sources of inspiration! Although it's been a tough year for many, you continue to show optimism and spread joy through all the kind things you do.
"I'm 11 years old. My Grandma taught me to sew. This is my very first quilt! I used 10 squares. I had it quilted at Missouri Star. I Love my Grandma! It was the best day. Ever. (It was my idea to have her embroider a Secret Santa for people to find.)"
– the grandson of Laurie S.
"For several years now I have been donating quilts to the Linus Project. I get to be very creative and I try to think about the kids that will receive a quilt and make them more than just something to snuggle under… I average about 10 quilts a year."
– Wendy G.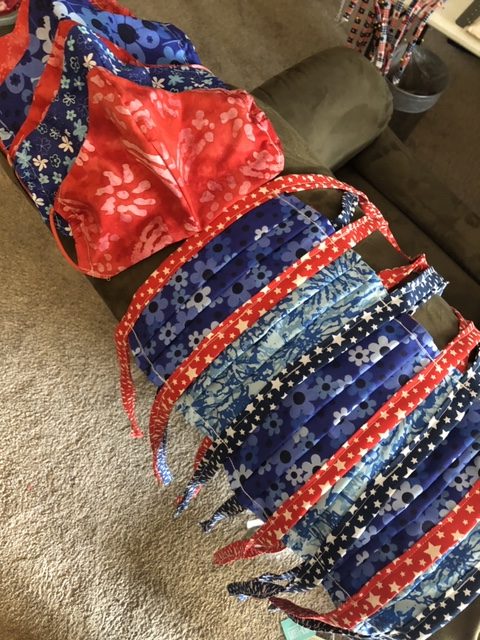 "We are a small group of ladies that support needs of nursing homes… We have made over 60 fidget pads, over 30 clothing protectors, over 20 baby dolls with blankets, crocheted over 40 caps, covered over 40 Small pillows, for wheel chairs, 100s of masks… Love these ladies and their servant hearts!"
– Nancy D.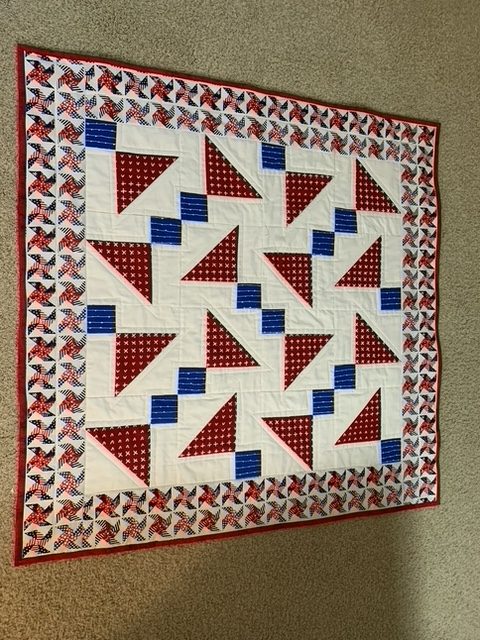 "I volunteer with the "Helping Hands" sewing group my church. We make various items from donated fabric and yarn… lap quilts for first responders to give to children in trauma situations, bed quilts and kitchen goods for our missionary families, quilts for orphanages, and window curtains for loft houses our church builds for homeless families."
– Cindy M.
Quilters, thank you for being an inspiration to us and the world. We look forward to seeing all the great things you'll continue to do in the new year!
Happy quilting!