Quilts are an incredible thing. Whether they're hanging on the wall or tucked safely upon a bed, they add an artistic flair to the room. Clean, colorful quilts with plenty of white space can brighten up the room, but sometimes a darker touch can really add a comfortable and cozy ambiance.
Quilts that utilize bold color choices complimented by black and dark space aren't just for the Fall season! These beautiful quilts draw attention and focus to the complimenting colors, creating a wonderful effect that makes the designs pop. Check out these five darker quilts and find some inspiration to break from traditional choices and make a bold statement!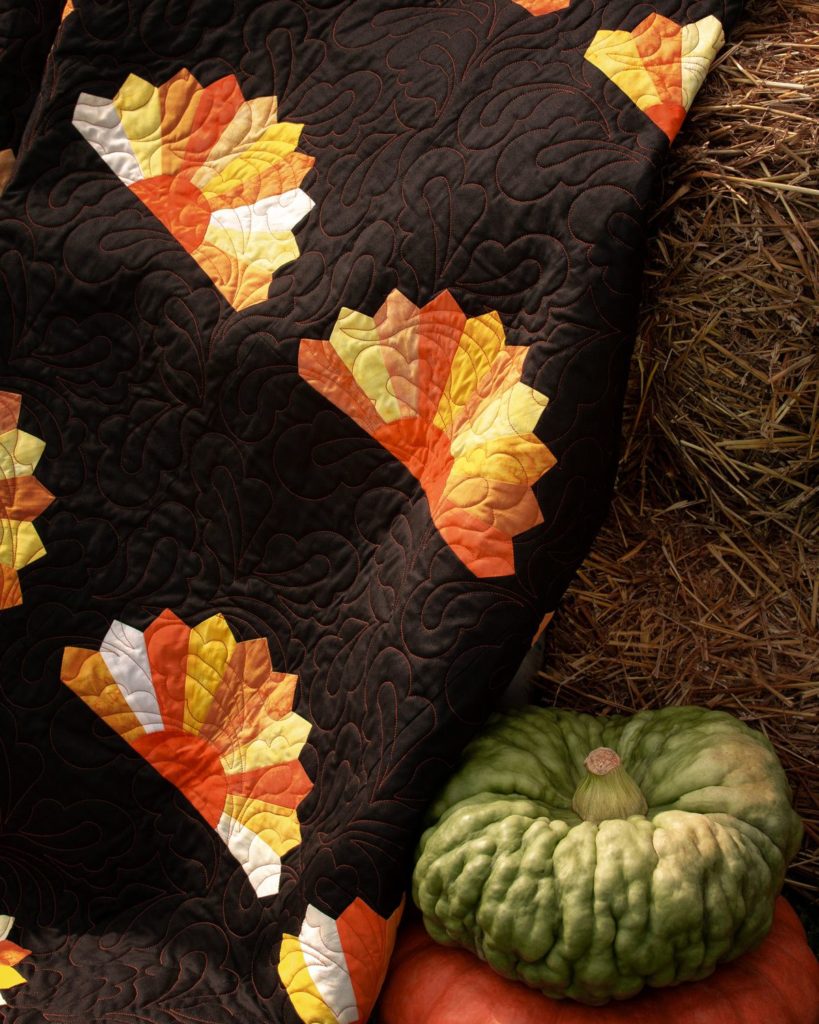 Warm yourself with the Here Comes the Sun Quilt! This fabulous Dresden plate quilt creates rising or setting suns among dark backgrounds. To make this even easier, Missouri Star created the Large Dresden Plate Template for 10″ Squares so that this quilt can be created by any level of quilter! Grab yourself some Layer Cakes (10″ Squares) and quilt until the sun rises!
Get the Large Dresden Plate Template >
Can't decided between Layer Cakes or Jelly Rolls? Don't want to go too bold when muted backgrounds still compliment the focus colors? The Rising Star Quilt is the best of both worlds! Pick up both precut fabrics and create a lovely star pattern using more prominent colors against a muted grey background for a quilt that both pops and still feels traditional and conservative.
Not a fan of Layer Cakes? How about a simple, beginner's Jelly Roll Quilt! The Town Square Quilt uses Jelly Rolls (2.5″ Strips) pieced together with a black background to make a beautiful quilt that is full of traditional elements coupled with modern flair. We LOVE Jenny's choice of colors on this project and there is no doubt that the Town Square Quilt would change the dynamic of any room it's found in!
Disappearing Hourglass Crazy Eight Quilt
Create an optical illusion with this take on the Disappearing Hourglass Quilt that we like to call the Disappearing Hourglass Crazy Eight Quilt! By piecing together Layer Cakes (10″ Squares) you'll be able to create a stunning effect hidden within the beauty of this design. Look closely and maybe you'll see the hidden hourglass design in this amazing quilt!
Grab the Missouri Star Small Tumbler Template and three Charm Packs (5″ Squares) and you're ready to create an easy Sashed Tumbler Quilt! There's no limit to the incredible color combinations you can create with this pattern and think how gorgeous those colors will be with a dark background fabric! Highlight your favorite Charm Packs or create a themed quilt with this simple quilt tutorial!
Get the Small Tumbler Template >
Tell us, what's your favorite quilt pattern using dark background colors?